SpeedQuizzing - Smartphone Quiz
No Pens, No Paper, No Cheating!
Interactive Quiz/Trivia

Split second speed-bonus accuracy.
Play using any smart device.
10 second timer that locks phone after, to stop cheating
Each team answers the questions on their device within a set time limit of 10 seconds. Your phone becomes the keypad!
Teams are not able to cheat as there is a time limit and will not be able to search for the answer before time is up.
Trivia formats including Letters, Multiple Choice, First Letter of the Answer, Numbers, Sequence and picture questions Etc.
"It's a SMARTQUIZ, a SMARTPHONE QUIZ, the SMARTEST SMARTPHONE QUIZ THERE IS."
Book now for Live in Venue or Smartphone Quiz Online Private Parties, Corporate and Virtual Parties. Create a Zoom event for your workplace.
(for Pub, Bar, Hotel or sports club owners)
Watch or take part in our smartphone quiz speedquizzing nights in action in Dublin – come along and play. Contact us for weekly venue locations to see it in action.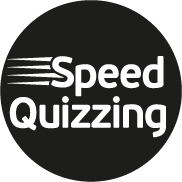 How to play SpeedQuizzing Web
The Quiz host will provide you with a Smartphone Quiz Online Zoom meeting link AND a four digit pin number for the SpeedQuizzing app.
You will need two devices to play.
1.   To watch/listen: Laptop or tablet using the ZOOM meeting app.
2.   To input the answers: Smartphone (Apple or Android), iPad or Android tablet with the SpeedQuizzing Live app installed. (free from your app store)
SpeedQuizzing Live app. 
Search for SpeedQuizzing on the Apple app store or Google Play store.
Download Flyer information here – Click for PDF